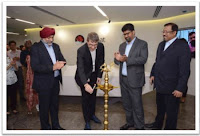 Red Hat, Inc. announced the opening of two new offices in Bangalore and New Delhi. These offices mark the company's continued commitment to enabling customer success with open hybrid cloud solutions in India.
With the opening of the new offices, Red Hat is expanding its footprint in India with a goal of supporting interest for open source solutions and services from customers and partners and further promoting the benefits open source solutions can offer enterprises in India. Red Hat now has six offices in India, including additional facilities in Bangalore and New Delhi, and offices in Mumbai and Pune.
Red Hat's new Bangalore office is a 14,000 sq. ft. facility at Lavelle Road. It is designed to act as a training and enablement center for customers and partners. Through the new facility, which features a cafeteria, and space for networking, meetings, training and certification exams, and an indoor game zone, Red Hat aims to bring its open, collaborative culture to life. The additional New Delhi office is a 12,405 sq.ft facility located close to the international airport at Aerocity, designed with an eye toward enabling collaboration with customers throughout the region.
Dirk-Peter van Leeuwen, senior vice president and general manager, Asia Pacific, Red Hat said, "I am excited about our new offices in Bangalore and Delhi. It is a great reflection of our growth in India and underlines our commitment to help our customers in India modernize their approach to technology with more flexible open source solutions and I trust that our expansion in these cities will help us reach more customers and partners. There's a strong commitment towards open source technologies in a fast-growing market like India, and we are looking forward to working with these organizations to help them meet their goals with open source."
Rajesh Rege, managing, director, Red Hat India said, "India is home to some of the most amazing talent and we see an opportunity to further expand our capabilities by offering open source technology, software services and support. We hope to attract the best talent in India with our differentiation in technology. The new offices will support our efforts to add to our stellar customer base and collaborate with organizations that see open source technology as a de facto solution to not only run their mission critical software, but as a source for technology innovation as well."