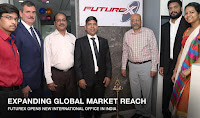 Futurex announced the opening of its newest international office in Mumbai, India, in support of the region's rapidly expanding needs for enterprise cryptographic hardware and cloud-based services. Under the leadership of industry expert Ganesh Karri, Chief Solutions Architect and Regional Business Manager for South Asia, the office will support and expand Futurex and VirtuCrypt's presence in the region by working directly with customers as well as supporting a growing network of channel partners.
With experience spanning over 35 years, Futurex provides hardened, enterprise-class data security solutions for industries including financial services, retail, IoT device manufacturing, government, general corporate, and more. Using FIPS 140-2 Level 3 and PCI HSM validated secure cryptographic devices, Futurex and VirtuCrypt offer the industry's only Hardened Enterprise Security Platform that spans both on-premises hardware and cloud-based services. Over 15,000 customers worldwide have trusted Futurex technology to protect their most sensitive data.
India has one of the world's fastest growing economies and 2nd largest population, and is home to a myriad of organizations in need of hardened data security solutions tailored to fit their unique needs.
"Futurex offers cutting-edge technology to protect enterprises from security breaches, and our ability to provide regional representation to our customers and partners is significant" said Mr. Karri. "The opening of this office marks an important step in the growth of our presence in India and South Asia."
The inauguration of this office marks the second international location Futurex has recently opened, with Futurex's Mexico City office having opened in July of 2016.