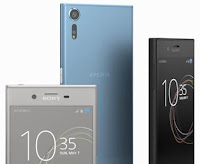 Sony India announced the launch of its new Smartphone, Xperia XZs. Bundled with innovative offerings; this flagship device is integrated with the brand new Motion Eye Camera making the photography experience immensely creative. The Motion Eye camera is packed with World's First Super Slow Motion video recording at 960 FPS in a smartphone and a unique capturing technique of Predictive Capture.
The Xperia XZs is the successor of Xperia XZ which was launched last year, with World's First 5 Axis Image Stabilisation and triple imaging sensor technology. The New Xperia XZs comes with Motion Eye camera on top of the existing camera tech introduced with XZ series. This Motion Eye camera makes XZs camera capable of recording images at a Super Slow Motion of 960 Frames per second and makes your shots even more creative with the added unique technology of Predictive Capture.
World's first Motion Eye Camera
Designed for aesthetic perfection, new Xperia XZs is powered with the World's first Motion Eye camera that comes with a built-in memory within an image sensor. This unique feature is capable of processing each image 5 times faster and improves low light images by reducing the noise by around 50%. This high speed capture also allows you to click images without any distortion even when the objects are moving, making your smartphone camera fun to use.
World's First Super Slow motion
Sony's new Xperia XZs can record videos in super slow motion at the recording speed of 960 frames per second. Using this unique feature, one can record videos 4X times slower than any other smartphone available in the market and dramatize each moment. The Super Slow motion video recording makes mundane moments of your life interesting, and helps you capture the moments and expressions which you might otherwise have missed. This level of frame rate recording in videos is available so far only in professional cameras and high-end DSLRs.
Predictive Capture
The predictive capture works by sensing the motion in the object frame and gets activated and captures 4 images of a your object at different moments of time before or after the shutter click, hence offering an array of images for you to choose your perfect picture. So, even if you miss to click the right moment, you have it stored already using the Predictive Capture.