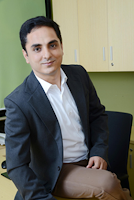 Smartron, India's first global technology OEM Company and premier IoT brand today announced the appointment of Amit Boni as the Vice President, Sales and Marketing. In this role, he will be responsible for overall brand building and heading the sales & marketing functions for Smartron.
Amit with his rich experience in telecommunications & diversified Industrials space and has been credited for significant contributions in catalyzing growth of the telecom industry in India. Before joining Smartron Mr. Boni has played a vital role in Motorola for seven years at various senior executive positions including India head and was instrumental in scaling Motorola Mobility's business, shaping the future of handset in the retail & e-commerce segment in India.
"Amit will be responsible for sales and marketing efforts and his experience in building tech product brands makes him a perfect fit for Smartron. Along with experience, he brings with him new age thinking and a challenger mindset, we are positive that he will help us build India's first true global product tech and IoT brand in the right direction and be a key internal stakeholder as we move towards realising our vision." said Mahesh Lingareddy, Founder and Chairman, Smartron.
On his joining as VP, Sales and Marketing with Smartron, Amit Boni said, "It's a great honor to join Smartron, the company that truly designs and engineers product in India. I am very excited to be a part of this company and work towards shaping the future of this authentic brand. "