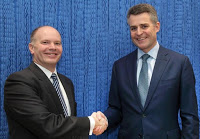 IBM and KONE, one of the global leaders in the elevator and escalator industry, announced the multiyear agreement in which IBM will provide cloud-based Internet of Things (IoT) technologies and services to drive innovation in smart buildings.
Through the agreement, KONE will tap into the IBM Watson IoT Cloud Platform to connect, remotely monitor and optimize its management of millions of escalators, doors and turnstiles in buildings and cities worldwide. The system will analyze vast amounts of data from sensors embedded in equipment helping to identify and predict issues and minimize downtime. Instead of having to call in a service engineer, KONE will be able to predict and resolve selected technical issues remotely by running tests and making commands over the cloud.
"Our partnership with IBM is exciting and it is an important stepping stone to deliver the best People Flow experience," says Henrik Ehrnrooth, President & CEO of KONE Corporation. "We operate in a connected world and by working with IBM, new solutions like remote diagnostics and predictability means we will deliver even better services to our customers, and great experiences for the people who use our equipment."
With real-time insight about the operation of its equipment, KONE's plans to drive further innovation and develop new solutions and services to improve the flow of people in some of the world's busiest cities and buildings. Using IBM's open standards-based Watson IoT Cloud platform, KONE plans to allow a vast developer ecosystem via Application Programming Interfaces (API's) to build new applications to make a smoother, safer and more personalized people flow experience for building users. For instance, community-based systems could help people pre-order elevators during the busiest times of the day or speed up evacuations during emergencies.
As buildings get taller and taller with the capacity to serve tens of thousands of users simultaneously, there is increased pressure on elevators and escalators to keep people moving smoothly. KONE is leading the way in bringing together technology and innovation to meet the requirements of some of the world's most ambitious and iconic buildings. Its projects include the Leadhenhall Building in London which features the world's largest and fastest suite of panoramic elevators; the Makkah Clock Royal Tower Hotel, in Mecca, Saudi Arabia, which is the tallest hotel, clocktower and largest indoor space in the world; and the Jeddah Tower, Saudi Arabia, which at over 1km tall, will be the world's tallest building when completed.
"Efficient, people-centric cities and buildings are better for business, societies and economies. Central to this is how people move around within them and intelligent systems are poised to make their experience more convenient, intuitive and enjoyable," said Chris O'Connor, General Manager, Offerings, IBM Watson IoT. "With IBM's cognitive IoT technologies, KONE is embedding intelligence across its operations and driving a wave of innovation in smarter buildings."