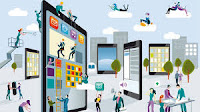 The Core business (comprising of data and voice segments) reported yet another quarter of strong performance in revenues and profitability. Q3 FY16 Core business revenues increased by 6.1% while EBITDA was up 2.1% YoY. Q3 FY16 Core business PAT at Rs. 910 million (USD 14 million), up 134.1% YoY.
Data has continued to drive Core business performance, with both network and managed services offerings showing enhanced traction. Enterprise business has grown by 21% YOY for the 9 month period on the back of strong demand for digital transformation solutions layered on top of our global infrastructure. Q3 FY16 data revenue increased by 16.7% YoY and EBITDA margins for the corresponding business stood at 21.7%, an expansion of 70 bps YoY. The data services portfolio coupled with improved profitability in the payment services business has been the key growth driver. The new services portfolio is also beginning to gain momentum.
Global voice segment continues to be adversely impacted by structural industry-level headwinds namely the growing acceptance of Voice over Internet Protocol (VoIP) delivered by over the top carriers (OTTs) coupled with a steep decline in tariffs.
Commenting on the Q3 & 9M FY16 results, Vinod Kumar, MD and CEO, Tata Communications, says, "We are happy to have delivered yet another quarter of steady growth despite volatility in the macro-economic environment. We have seen a 16.7% YoY increase in Q3 data revenues. Data especially cloud enablement and collaboration services will continue to be the growth driver in the coming quarters."
Commenting on the results, Pratibha K. Advani, CFO, Tata Communications, says, "Our Q3 performance reflects continued business momentum in line with our strategic direction and investments. Our data business offering is growing at a significant pace ahead of the industry. This strong momentum in our data segment, both in traditional and growth services is driving our business performance. The robust and predictable data performance has provided headroom to absorb volatility in the voice segment."