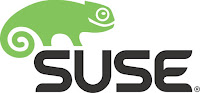 SUSE, and it-novum announced anagreement to collaborate on the development of additional Ceph management functionality for openATTIC, which will make deploying enterprise storage solutions easier. openATTIC, an open source software-defined storage management platform sponsored by it-novum, will be made available as the management front end for future releases of SUSE Enterprise Storage .
Powered by Ceph, SUSE Enterprise Storage is a self-managing, self-healing, distributed software-based storage solution for enterprise customers. The collaboration between it-novum and SUSE will bring centralized management of file, block and object storage via openATTIC's single graphical user interface to future releases of SUSE Enterprise Storage.
"Simplifying enterprise storage has been one of our primary goals with SUSE Enterprise Storage," said Michael Miller, President of Strategy, Alliances and Marketing for SUSE. "This productive new collaboration with it-novum allows us to provide openATTIC-managed SUSE Enterprise Storage, bringing even greater cost efficiencies and simplicity to enterprise software-defined storage."
Michael Kienle, CEO of it-novum, said, "SUSE is renowned for their solid engineering and commitment to open source technologies throughout the industry. With openATTIC, we aim to provide a management GUI for users to manage storage and Ceph in an intuitive way. We are excited to work with SUSE to bring openATTIC's Ceph management capabilities to the customer, providing a viable alternative to traditional storage management solutions."
openATTIC is an open source storage management system for Linux-based appliances. Currently under development, version 2.0 of openATTIC will provide the configuration, management and monitoring of storage resources via a wide range of file and block storage protocols, including NFS, CIFS, iSCSI, FibreChannel as well as the Ceph distributed storage system. openATTIC is based on well-established open source technologies and provides a RESTful API for automation/integration and an intuitive web-based interface making it a powerful storage management solution (including Ceph).
"The potential for open source-based approaches, such as SUSE Enterprise Storage, to disrupt the status quo in storage remains significant," said Simon Robinson, Research Vice President for Storage at 451 Research. "By promising to simplify the overall Ceph storage management experience, this collaboration between SUSE and it-novum brings this potential one step closer to reality."