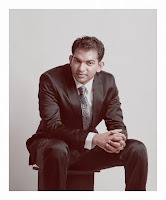 Startup Village chairman Sanjay Vijayakumar has been nominated by the Indian government as a member of the International Board of Governors of the United States-India Science and Technology Endowment Forum (USISTEF), which supports and fosters innovation and techno-entrepreneurship through application of science and technology.
Vijayakumar's nomination was announced by Prof. Ashutosh Sharma, Secretary, Department of Science and Technology, Ministry of Science and technology, Govt. of India.
The bi-national Indo-US Science and Technology Forum (IUSSTF) administers the United States-India Science and Technology Endowment Fund, which is jointly set up by the governments of India and the USA. The Fund supports R&D enabled cooperation for generating social benefits by commercialization of technology through partnerships between Indian and American researchers and entrepreneurs.
A joint Governing Board of 18 members (nine each from India and the US) has been formed to provide leadership and oversight to USISTEF and to ensure that the programmes and activities of the bilateral Fund conform to the highest standards. From the Indian side, the Governing Board is co-chaired by Dr. Arabinda Mitra, Advisor & Head, International Bilateral Cooperation, DST (IBCD).
"I am hugely honoured by my nomination to the Governing Board of USISTEF. It will give me an opportunity to interact and share ideas with some of the most important names in the area of entrepreneurship and innovation," said Mr. Vijayakumar.
"India needs a conducive ecosystem for startups, and I hope USISTEF can lend a cutting edge to such a mission," said the 31-year-old chairman of Startup Village, who had moderated a panel discussion on "How digitisation will change India's future" as part of the Startup India action plan unveiled by Prime Minister Shri Narendra Modi in new Delhi on January 16.