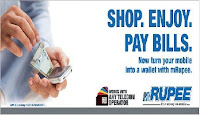 mRUPEE, a subsidiary of Tata Teleservices, announced that it has tied up with SmartD, a lifestyle management platform, which helps consumers make smart day-to-day decisions to achieve their long term lifestyle objectives. To begin with, SmartD helps consumers explore Chennai for delicious, healthy and affordable food.
Smart Decisions Lifestyle Information Pvt. Ltd. (SmartD), a fully owned subsidiary of Market Simplified, has successfully on boarded dozens of casual dining restaurants, tiffin centers and food joints specific localities across Chennai. These small and medium food providers are delighted to leverage a single SmartD Business platform, hitherto inaccessible and unaffordable, to manage and control their entire operations and sales. SmartD's module provides interesting insights to these small business owners who are able to smartly apply their business acumen and engage their consumers with innovative and relevant daily offers. mRUPEE will act as the payment medium in SmartD platform helping consumers apportion and manage their day to day expenses.
"Over the last few years, there has been a tremendous change in the way people order for their food. They can do it through mobile apps and can track their food from its preparation to its delivery. But the underlying need for good food at affordable prices has always remained constant. SmartD aims to bridge this gap by on boarding a diverse set of restaurants and affordable food joints which fit the consumers' daily food requirements. For example, a migrant worker has to plan his lifestyle around his fixed monthly salary. So, we handpick restaurants which provide affordable and delicious meals, making it easier for such consumers to explore more options within their budget. This is the first time in food technology space, where a single platform has been developed to enable restaurant owners to increase their online and offline sales, manage their day-to-day operations and engage with their consumers in a simple and coherent manner," Venkat Rangan, CEO of SmartD, said.
"Regarding payments, mRUPEE gateway will allow consumers to pay for their meal orders in a safe and easy manner. mRUPEE will also help us in customer segmentation and will gradually allow us to do offer and discounts to our consumers basis their demand. Owing to its large distribution channel, a secured network and high customer value, mRUPEE is an appropriate partner for us," concluded Venkat in his statement.
"Mobile payment services are increasingly being used by consumers to supplement their daily needs. mRUPEE's tie-up with SmartD is a step towards our commitment to further enhance our capabilities and help make life easier for the young working class and the home makers in Chennai. The versatility of mRUPEE's services ensure that we are able to delight our customers at every touch point," Pradeep K Sampath, Chief Operating Officer for mRUPEE, highlighted on the occasion of this launch.
mRUPEE had recently tied up with ICICI Bank to launch a recharge facility for Delhi Metro cards. MMPL also launched the Open Loop prepaid, VISA powered, card in partnership with RBL Bank (Ratnakar Bank). By obtaining a PaySmart card, mRUPEE customers are able to withdraw money from VISA licensed ATMs and also pay for goods and services at all merchants that accept VISA Debit/Credit cards nationally.