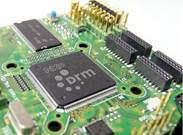 NXP Semiconductors announced that it has successfully completed extensive testing and field trials of its newly designed chip and software for DRM (Digital Radio Mondiale) receivers in India. The NXP chip has been deployed in DRM-fitted car infotainment receivers on a recently launched passenger vehicle in India. All India Radio, a key player in India's nationwide roll-out of DRM, and NXP Semiconductors, the world's largest supplier of car infotainment semiconductors, collaborated for this initiative with the automotive industry and the DRM Consortium.
This achievement was announced today at the BES Expo 2016 in New Delhi, with the intent to raise awareness of All India Radio's Digital Radio plans, emphasize the benefits of the DRM radio standard, promote availability of the world class DRM chips and receivers in India, and spotlight technology development initiatives in India at NXP Semiconductors in line with Digital India and Make in India programs.
DRM is an innovative digital radio standard currently being implemented in emerging markets such as India, providing FM-comparable or better audio quality on the AM radio band. AM radio covers over 99% of India's population, whereas only 45% of listeners can currently receive the FM signal. DRM significantly improves audio quality at a low cost, while providing additional data services such as traffic updates, natural disaster warnings and news.
Ashok Chandak, Senior Director, NXP Semiconductors South Asia Pacific, commented: "It is incredibly exciting to have participated in this DRM rollout in India. With this launch, NXP is the world's first semiconductor company to demonstrate digital audio across all three global standards from the same car radio co-processor - a real milestone for NXP. We're also proud that our R&D center in India has played such a pivotal role in developing the chip and software for this technology, conducting field trials and testing the receivers in shortwave and mediumwave that will enhance the consumer experience in the car. The work and tests which have been carried out highlight that DRM in India is a reality and that the auto industry is at the forefront of the Indian digital radio roll-out."
Welcoming this achievement, Ms Ruxandra Obreja, Chairman, DRM Consortium said, "Many millions of people in India who haven't had a chance to receive and experience FM radio quality before will soon be able to enjoy Digital radio, so it's great to be playing a role in this achievement (making this happen). All India Radio is about to complete the nationwide installation of DRM transmitters and the availability of DRM receivers in shortwave, mediumwave and VHF for automobile vehicles will pave the way for more companies to roll out DRM receivers thereby enabling digital music and value added services such as news, alerts, sports, etc. to the citizens of the country. This will also give All India Radio reasons to increase the transmission power of the DRM transmitters and provide world class content to the listeners."