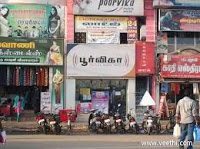 Poorvika Mobiles announced implementation of Avaya's end-to-end communication solutions comprising Video Conferencing, IP Telephony and Networking, across six floors of its new state-of-the-art head office in Chennai. The framework includes network infrastructure Avaya IP phones and wireless access points throughout the building along with video conferencing access enabling collaboration and knowledge sharing from anywhere, anytime.
The consumerization of technology represents a significant challenge for mid-sized, growing businesses which aim to reduce overall costs while keeping up with technological advancements. Poorvika chose Avaya for its network solutions based on its reputation for stability, reliable service and connectivity due to robust & stable network and the ease of management. The solutions will be maintained by Avaya's partner, SEC communications, which specializes in communication technology, audio and video conferencing, networking and security solutions.
The enhanced high-quality, low-bandwidth video solutions will help Poorvika improve efficiency with employees and drive deeper relationships. Not only this, Avaya's highly scalable IP phones will keep employees productive, even as they move through the building. Enhanced voice quality will help ensure that they communicate clearly and efficiently. It will also bring new cost savings with an opportunity to extend these solutions to the rest of their retail base in future, which currently comprises over 200 one-stop-mobile-shops across 43 cities in Tamil Nadu, Pondicherry and Karnataka alone.
With over 240 outlets across 43 cities in South India and a workforce of over 3500 knowledgeable and committed professionals, Poorvika serves over 40 lakh satisfied customers. In the years to come, Poorvika aims at setting new benchmarks in innovative world-class mobile retail and has set its sights on emerging as India's largest retail chain for mobile phones and accessories.
"We were looking for IT and communications architecture which would not only improve efficiency but was also easy to use by our employees. We chose Avaya for its ability to provide a secure, robust platform allowing us to reduce bandwidth costs and at the same time customized to suit our requirements. One of the biggest benefits we're seeing from the Avaya network is that our very lean IT staff now has more time to spend on other things because we're spending considerably less time managing the network," said Uvaraj, CEO Poorvika Mobiles Pvt. ltd.
"The most important element in a robust IT architecture is getting everything to work seamlessly without much external management or intervention. And this has also been the single most challenge small and mid-sized companies face in their journey to scale new heights. We're glad to simplify this for Poorvika and with our full stack of solutions, it becomes immensely easier to manage while minimizing long term IT costs. We hope to be able to extend these solutions to their large retail base in the future," said Vishal Agrawal, Managing Director, India and SAARC, Avaya