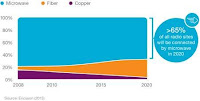 To improve both the performance and efficiency of today's LTE technology, which will evolve to become part of 5G, Ericsson announced new Ericsson Radio System software and hardware supporting 1 Gbps user peak rates and a hyper-scalable radio access network (RAN) architecture. With LTE subscriptions forecast to reach 4.1 billion by the end of 2021, a compound annual growth rate (CAGR) of 25 percent, and increased data consumption per subscription, operators are challenged to efficiently scale their networks while ensuring great app coverage for their customers. Ericsson's newest hardware and software address LTE growth opportunities while supporting the operator's evolution to 5G.
Networks Software 16B delivers Gigabit LTE
Ericsson Networks Software 16B harnesses a combination of powerful software features to deliver extreme app coverage, with user peak rates of up to 1 Gbps, through software enhancements to today's commercial LTE networks. The combined features of Gigabit LTE, include:
· Three component Carrier Aggregation (CA) which enables the user to benefit from up to 60 MHz combined bandwidth from different spectrum bands simultaneously;
· 4X4 MIMO (multiple input multiple output) which doubles the number of unique data streams being transmitted to the user's smartphone, thereby enabling up to twice the capacity and data throughput;
· LTE 256 QAM (quadrature amplitude modulation) encoding which packs more bits into the available spectrum; and
· Ericsson Lean Carrier, which increases both the data throughput received by end users, and overall system capacity by reducing the interference caused by excess reference signaling across the LTE network.
The combination of these features, which will be demonstrated live at MWC 2016, delivers up to a 100% increase in downlink peak data rates compared to three component CA alone.
Elastic RAN drives flexible, scalable Cloud RAN architecture
Baseband coordination is a key element in achieving high network performance, and Elastic RAN now extends the user experience and network performance and efficiency benefits of coordination, across the entire network. With Ericsson's new Elastic RAN, every Ericsson Radio System LTE baseband unit can coordinate with any adjacent one, whether in a centralized, distributed or hybrid network architecture. This flexible, hyper-scalable architecture supports the operator's migration to Cloud RAN.
Today, the benefits of most centralized baseband deployments are contained to a specific area. With Elastic RAN, LTE basebands are interconnected through high-performance Ethernet transport networks, enabling the complete network to operate as one unified coordination area. Elastic RAN ensures that capabilities such as Carrier Aggregation (CA) and Coordinated Multipoint (CoMP) can improve the user's app coverage network wide irrespective of the baseband deployment scenario.
Ericsson Radio System access and backhaul products
The Ericsson Radio System, which launched in Q1 2015 and became generally available in Q3 2015, is now complemented with three new radio access products supporting 4X4 MIMO as well as new spectrum bands and spectrum re-farming:
· Radio 4415 with 4x40W output power supports 4x4 MIMO to increase capacity by doubling the available data streams
· Radio 2012 adds support for the 1.4 GHz Supplemental Downlink band, thereby adding capacity to the network
· Radio 2212 with 2x80W output power to facilitate spectrum re-farming as operators upgrade from 2G to 3G and LTE
Efficiently addressing user demand for extreme app coverage, both indoors and outside, will also drive requirements for multi-gigabit capacities and multi-band solutions in the backhaul. Ericsson is addressing this with new microwave additions to the Ericsson Radio System, including:
· MINI-LINK 6651, a compact indoor unit with a link capacity of 1.9 Gbps (using 4096 QAM and a 112 MHz channel), which is used for split mount deployments using an outdoor radio unit.
· MINI-LINK 6354, a two carrier all outdoor solution for traditional frequency bands, providing a capacity of 2.8 Gbps (using 4096 QAM and 112 MHz channels).
· Multi-band Booster, which provides a significant boost in performance and improved use of spectrum, by combining a wider high frequency channel with a narrow low frequency channel. One example is bonding of an E-band microwave radio, (70 and 80 GHz) together with a radio using a channel in the 23 GHz to enable 10 times more capacity than 23 GHz alone.
· High Performance Compact antennas for the current MINI-LINK 6363, MINI-LINK 6352 and Fronthaul 6392
Mike Wright, Group Managing Director Networks, Telstra, says: "We are excited to have been able to efficiently drive new performance milestones in our LTE network in the evolution towards 5G, including recently partnering with Ericsson to demonstrate the world's first end-to-end 1 Gbps capability on Telstra's live network. Ericsson's latest LTE innovations, including Gigabit LTE will enable us to continue to raise the bar in terms of user experience across a wide range of applications and media streaming."
Dragan Raguz, Head of Transmission, Tele2 Croatia, says: "Microwave backhaul continues to play a very important role in the evolution to 5G. Ericsson has once again demonstrated its leadership with Multi-band Booster enabling substantial increase in capacity and improved use of spectrum."