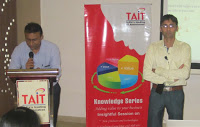 Trade Association of Information Technology (TAIT), successfully conducted a cybercrime workshop as part of its very popular TKS - Tait Knowledge series. The event was conducted at the Krishna Palace Hotel, Mumbai on 12th January.
The workshop was conducted by Sachin Dedhia, a renowned and much sought after Cybercrime and Ethical hacking specialist Sachin Dedhia. The session was very interactive and he showed lots of DOs and DONTs with live demos. Member volunteers were shown their own Facebook and Gmail passwords with simple techniques much to the amazement of the audience.
Vivek Gandhi, VP at TAIT said, "Ithought my Facebook password was secure but in a few seconds it has become public knowledge"
Sachin Dedhia also talked about banking and credit card frauds, credit card cloning, various other credit and debit card related frauds. Mukesh Mehta, Orno Computers said that he will be very cautious in Net Banking transactions after knowing the grave dangers of banking frauds.
Also demonstrated were call spoofing where person A called but called id of Person B was displayed and gave various egs of frauds that can be perpetrated using such tools and a combination of email spoofing. Vinod Vanigota, another TAIT director mentioned that this mail spoofing, if unchecked can cause immense financial losses. Devang Thakore and Viren Bavisi said, "We were stunned by the vast tools shown and demonstrated at the workshop".
Techniques of checking if our near ones are targeted by undesirable online sites and how to find out and remedial measures for the same too were discussed. Concurred Sameer Parekh that "I never know that family members are also vulnerable".
Lot of emphasis was also given on Wifi security and how mobiles, laptops and other equipment is used by hackers. Mobile apps which can cause devastation were also highlighted. Sameer Mehta and Magan Ganglani arranged for the training of Police officials from the D.B.Marg Police station. Remarked Inspector Patil that he gained immensely from the workshop and he would look forward to advance training of the same.
Rushabh Shah, Tait President said that such workshops add lot of value to members understanding to the increased threats from the online space and how members and their families can take simple steps to protect themselves from a lot of vulnerabilities.