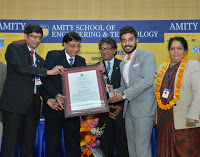 Intex Technologies announced that Keshav Bansal, Director, Intex Technologies was recognized with the "Amity Leadership Award for Business Excellence" for leveraging information technology in the telecommunication sector, by Amity University.
The award was presented to Keshav Bansal by Dr. Ashok K Chauhan, Founder President, Amity Education Group, during Confluence 2016 - 6th International Conference on "Cloud System and Big Data Engineering" held at Amity School of Engineering and Technology, Amity University on January 15th. The event was attended by several eminent personalities from Government, industry, global universities and academia.
"I am honoured to receive this award. At Intex Technologies, it is our constant endeavour to excel in all areas of our business so as to provide the best products and services to our consumers. Being a leader, it is also our effort to continuously grow the market and ensure that best practices are widely adopted", said Mr. Keshav Bansal, Director, Intex Technologies, while accepting the award. "Intex has grown significantly over the last few years due to our innovative products, excellence of our services and focus on consumer satisfaction. Recognition such as this inspires us and strengthens our resolve to do even better", he further added.
These awards are given in recognition of the exemplary leadership qualities through which the corporate leaders of today have steered their corporates to achieve new heights of excellence. It is an effort by Amity University to encourage the leaders of tomorrow to tread on the same path on which the leaders of today have walked, achieving excellence on the way. The academic partners of Confluence 2016 include University of Massachusetts, USA; Purdue University, USA; University of Florida, USA; University of Cape Town, South Africa and Memorial University, Newfoundland, Canada.