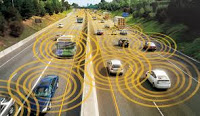 Ericsson and AT&T Drive recently launched an automotive Wi-Fi Landing Page solution that provides consumers with an easy way to manage Wi-Fi connectivity within their vehicles.
Chris Penrose, Senior Vice President Internet of Things, AT&T Mobility, says: "AT&T collaborated with Ericsson to provide vehicle owners with the ability to access and manage their 4G LTE Wi-Fi hotspot account. This marks another milestone in our strategic relationship with Ericsson as we continue to break new ground in enabling the next generation connected car experience for consumers."
The Ericsson solution gives consumers the ability to activate a free Wi-Fi hot spot trial, buy a data session for their vehicle and manage their Wi-Fi account from within their vehicle.
Glenn Laxdal, Head of Technology and Strategy, Ericsson North America, says: "Ericsson is excited to continue extending our relationship with AT&T Drive and help power AT&T's new online Wi-Fi portal as the Networked Society continues to become a reality."
The connected car market is becoming an increasingly important element in consumers' purchase decisions. Ericsson and AT&T recently collaborated on a global consumer research study that examined this topic. The results showed that three out of four surveyed consumers say connected car services will be an important feature in their next car purchase.
The study found:
· 62% percent of US survey respondents are aware of the term "connected car"
· Wi-Fi hotspot ranked as the number one feature that U.S. customers are willing to purchase for their car
· Almost 75% of those surveyed globally after learning about connected car services consider them an important feature in their next car
In addition to safety and infotainment features enabled by connectivity, automakers can also use the connectivity for over the air software updates and advanced downloadable engine configurations. For the consumer, this means that connected car services will open up the ability to add new capabilities to their car and enhance their driving experience for years after they purchase a connected car.