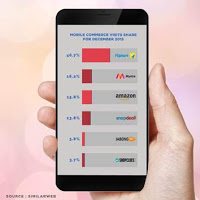 Flipkart continues its dominance of mobile commerce in India with 47% of share of visits among the major shopping apps in India, according to December 2015 data by firm SimilarWeb. Myntra occupies the second position with over 16% share of visits. The combined traffic share of Flipkart and Myntra stands at an overwhelming 63%. Amazon stands at the third position with 15.86% followed by Snapdeal with 13.84%.
Flipkart also leads in total app installs with an install base of 37% of the total Android smartphone base in the country. Combined with Myntra, the total install base goes up to 47% of the total Android smartphones in India. Amazon and Snapdeal are at less than half of Flipkart's install base with 18% each. Android smartphones account for around 85% market share of total smartphones in the country.
The Indian e-tail market is overwhelmingly mobile dominated with around 70% percent traffic coming from mobile devices. Desktop contributes to only around 30% of the total traffic, a share that has been declining rapidly.
Smartphone sales and usage in India have soared in 2015. According to IDC, smartphone shipments grew by 44% in quarter two and by over 21% in quarter three of 2015. At the same time, 4G phones also saw a three-fold jump in demand. The total smartphone ownership in India stands at over 160 million. According to IDC, India is set to overtake the United States as the second largest smartphone market in the world by 2017.
On the other hand, PC shipments have seen a precipitous fall. According to IDC, world PC shipments have suffered a year-on-year decline of minus 10.6%. This is the largest decline in history for PC shipments. The Indian PC market is also declining rapidly with MAIT reporting a fall of over 10% in July 2015.
Note: The visit share has been computed by comparing visits among top shopping apps - Flipkart, Myntra, Amazon, Snapdeal, Jabong and Shopclues, as reported by SimilarWeb for December 2015.