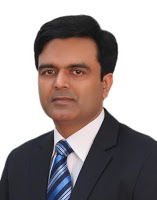 Overstock & recommerce platform Surpluss.in has appointed its new CEO, Mr Saurabh Rai. 39 years old, Saurabh, has joined from a multinational management consulting, technology services, and outsourcing company Accenture.
Rai, who was leading Sales for Accenture Digital - Applications Platform for Resources in APAC and Europe, has extensive experience in setting up resources Advanced and consulting practice and Leading charge in sales, M&A, competency development, business process management and implementing business strategies for large scale expansion. An innovative thinker Saurabh has US patents to his credit.
In his new role as CEO, his primarily task would be to steer the brand to its next pedestal by integration of direct to customer and direct to retail business platforms. Launched an year back, Surpluss.in has emerged out as a category leader among recommerce players while attracting high number of visitors. The brand is exclusively catering to surplus and unboxed products market and today ranked as top trend setter in India.
Commenting on Mr Saurabh Rai's joining the surplus board, Mr. Tarun Bhardwaj, Executive Director said, "Surpluss.in is a young brand with the youth being our target, Mr. Rai's leadership and rich experience will surely accelerate the growth of this venture. Saurabh will allow us to more quickly take Surpluss.in & Surpluss B2B visionary status to the next level."
These are exciting times for the company and we look forward to Saurabh motivating the team and driving business in the market forward, he added.
Commenting on his move, Mr. Saurabh Rai said, "I am excited to join such a well-respected team and have the opportunity to take Surpluss.in & B2B ventures to the next phase of growth. In a startup you see results in front of you—numbers, revenues. In an MNC, you learn the ropes. I wanted my work to matter and give satisfaction. I look forward to making Surpluss.in first choice for a value seeking Indian customer"
"In a price-sensitive country like India, which generates a lot of overstocked refurbished products annually, cost is the reason why many people discount their desires and needs. Availability of Surplus, refurbished and unboxed products, at affordable prices, is a great option for customers to own branded products.", added Mr. Rai.
As a brand, Surpluss.in has been toting up products and categories to make a better connect with the aspirational youth. Gadgets and lifestyle as a category have got maximum traction among the youth globally and India is no exception. Youngsters have limited money and always aspire to have branded products. So, the attempt of Surpluss.in is to connect with the youth through their passion. Luxurious brand is the icing on the cake along with cost-effective option of Surplus, refurbished and unboxed goods.