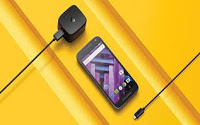 Motorola announced new price points on Moto G (3rd Gen) and Moto G Turbo variant. The Moto G (3rd Gen) is now available starting INR 9,999 and Moto G Turbo variant is available starting INR 12,499 exclusively on Flipkart. In addition to this, there are exciting exchange offers such as upto INR 4,000 on Moto G (3rd Gen) and upto INR 5,000 on Moto G Turbo Edition.
Moto G Turbo Edition comes with a TurboPower charger, which gives you 6 hours of power in just 15 minutes of charging. There's IP67 rated protection to keep your phone safe from water and dust. Moto G Turbo Edition's 13 MP enhanced camera provides zero shutter lag so you never miss a moment, while video stabilisation ensures that home videos look smooth and steady. And with a pure Android™ OS, there's no unnecessary bloatware to slow you down.
Ready to weather any storm, Moto G (3rd Gen) comes with advanced water-resistance technology so it stays safe from splashes or accidental drops in the water. It keeps things real with a 13-megapixel camera that takes true-to-life photos in any light. It's quick, sharp and dependable - with 4G LTE speed, an expansive 5-inch HD display and a battery that can keep up with you throughout the day. It runs on the latest version of Android™ Lollipop and now has software enhancements, like Moto Assist, Moto Actions and Moto Display, that are designed to make your life easier.