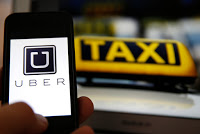 Uber, the smartphone app that connects riders with drivers to provide affordable, convenient and safe rides has today signed a Memorandum of Understanding (MoU) with the Government of Haryana at the Happening Haryana Global Investors Summit 2016.
The summit aims to bring together entrepreneurs and the Government, specifically potential investors, decision makers, senior Government officials and local business community for a concrete dialogue on investment opportunities and business environment in Haryana.
Through this landmark MoU, Uber will invest in technology based ridesharing services, which includes peer-to-peer transportation using private vehicles where the driver is reasonably compensated for expenses, tolls and other related costs. This new form of reliable and convenient urban mobility will help create a real alternative to car ownership. Uber will also collaborate with the government in creating smarter cities in Haryana.
On signing the MoU, Shri Vijayendra Kumar, Secretary Information Technology, Government of Haryana, "We are pleased to partner with Uber in Haryana, as they commit to economic development of the State. Haryana has been a leader in promoting Information Technology and we are excited to launch private vehicle ridesharing to promote urban mobility, prevent pollution and reduce the time spent in traffic in our cities."
Gagan Bhatia, General Manager, North India, Uber, "We are excited to partner with the Government of Haryana and invest in ridesharing technology to promote efficient, eco-friendly and smart transportation in the state and the NCR region."