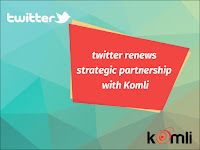 APAC's leading digital media technology brand Komli Media, now a part of India's SVG Media Group, today announced that it has renewed its partnership agreement with Twitter for India till March 2017. Komli signed this partnership for the first time with Twitter in 2012.
Under the renewed agreement, Komli will continue to help Twitter expand its Promoted Products suite of advertising products and emphasise on the company's monetisation efforts. Komli would be reaching out to the huge Indian mid-market segment and help them target potential customers on Twitter giving them high life time value per customer and eventual return on investment.
Manish Vij, Founder & CEO, SVG Media, said "These are exciting times for us to be in the digital and mobile marketing industry. The Indian market is growing and fast emerging as a significant opportunity distinct from the developed markets in the U.S and other geographies. Komli has delivered amazing results in past few years and we are absolutely confident about our success in the coming year too".
Komli Media is driving Twitter advertisement campaigns for some of the biggest Indian brands including Levi's, Cathay Pacific, Zoomcar, Swiggy and Adani to count a few.
Speaking about the development, Akshay Mathur, Senior Vice President, Komli Media said, "We are delighted to extend our partnership with Twitter, particularly at a time when social media usage in India is exploding and an unprecedented number of brands are investing in Twitter to reach out to their audiences. Through this partnership we are looking forward to delivering again on our commitment to create a long term value for Twitter in this region. This partnership also makes us the only player with a complete digital and mobile marketing portfolio and the partner of choice for marketers operating in this region."
Aliza Knox, Vice President, Online Sales, Asia Pacific and Latin America, Twitter, said, "India is one of the fastest growing markets for Twitter worldwide and we are excited to announce the extension of our strategic business partnership with Komli locally. The partnership will provide additional on-ground support to Twitter's clients and prospects in India, working in parallel with our direct sales team, to strengthen Twitter's presence in the market."
Twitter is betting big on revenue potential of a rapidly developing economy like India. As per a study undertaken by Ernst & Young dated 15th Feb 2016 on Social Media Marketing in India; 90% of the companies surveyed spent up to 15% of their annual marketing budgets exclusively on social media.
Ashutosh Harbola, Head of Marketing, Blogmint, articulated, "It has almost been a year since I have been working with Team Komli, and I must admit they are the most professional lot of people I have ever come across. Right from the time when we were setting up our first campaign for Blogmint till we drove the necessary ROI, their effort has been remarkable. I wish the team loads of luck. I continue to nurture this relation with Komli (SVG Media) in my future journey as a marketer."