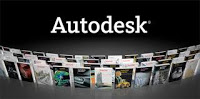 Autodesk announced a new campaign to encourage customers, for subscribing to its design technology. The company, will be providing special pricing for Autodesk products—including AutoCAD, Revit, Inventor, 3ds Max, and more, that can lead to savings of up to 70% by the customers. They can avail the special pricing for the product subscriptions done till April 17, 2016 and will get lower up-front costs along with a flexible, easy-to-manage approach for using all these products.
This campaign is aligned with Autodesk's earlier announcement this year, regarding the discontinuation of perpetual licensing and availability of AutoCAD Products on a subscription-only model. Autodesk aims to provide superior customer experience by simplifying software purchase, deployment and troubleshooting. In addition to better value, easier access, and improved flexibility, the subscription will also give flexible usage (Home Use, Global Travel, and Previous Version rights), cloud services, administrative tools, multi-year options, single and multi-user options.
Commenting on the new announcement, Mr. Pankaj Gauba, Country Manager Channels - Autodesk, India & SAARC said "Autodesk is committed to enable a smooth transition for customers, from the perpetual licensing model to subscription model. This new campaign will not only provide significant cost benefits but also additional support needed by the customers. Throughout this transition, we will work with our partners and customers to deliver better and enhanced experience of using our design tools and technology."
AutoCAD®, is the flagship product of Autodesk that has helped millions of design professionals globally to create stunning designs and speed up documentation work. The subscription model will allow greater flexibility as Autodesk is offering consumers ways to align the software according to individual/business needs along with low cost trials and multiple machine/device access and immediate cloud access.