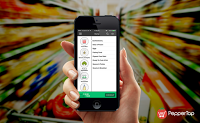 Here are top five apps for those who are mostly running against time:
Medicines - Pluss: Pluss is an on-demand medicine, healthcare and wellness products delivery app which standardizes your experience irrespective of your location and the store from where your medicines come. Users can upload a photo of their prescription, and then the app lets them select and order individual medicines from their prescription. Orders are delivered to a user within 60 minutes of them receiving an order confirmation SMS.
For urgent grocery needs - PepperTap - PepperTap is the fastest on-demand grocery delivery service in India that provides convenience, on-time and on-demand delivery to its patrons, along with superlative services and hand-picked products. Delivery within 2 hours is what differentiates the firm from its competitors. Customers can choose from 15,000+ unique products from a wide array of categories online right from food mart, grocery & staples, fruits & vegetables to household
For you hunger pang - foodpanda: From favorite Indian delicacies to international cuisines, foodpanda is one changing the face of online and app food industry. With more than 1 million downloads, this app has already reached out to 200 cities in India.
For all you household chores - LogiMonkey.com: Logi Monkey, a mobile app takes on and facilitates those typical odd jobs which involve outdoor running. Thriving on its expertise in local delivery, Logi Monkey handles and delivers everything from personal possessions to official properties with immense caution and vigilance. The uniqueness of the brand lays in its seamless, on-demand pick-up and delivery service. The brand, true to its tagline, believes immensely in making 'Har Kaam Aasaan'
For last minute gift - Urbanclap: UrbanClap, India's largest mobile services marketplace, provides trusted services across 80 categories including photographers, electricians, home cleaning & repairs, yoga & guitar instructors, and many more. Whether you are looking to decorate your home, get candid pictures on your wedding day, plan your kid's birthday party or get healthier, UrbanClap is the ultimate destination for all service needs.