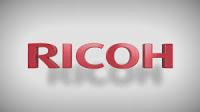 Ricoh India unveiled a bold new cloud strategy for small and medium businesses, school and other organisations lower costs and improve productivity by turning their multifunction products (MFP's) into portals that deliver internet based services.
Ricoh cloud platform, called Integrated Cloud Environment (ICE), is a single interface connecting Ricoh MFP's to cloud services. It enables companies to use the internet as their IT infrastructure, directly scanning paper documents to cloud storage services and automatically turning them into fully editable documents along the way. With ICE, a user can access variety of cloud services like Google Drive, DropBox and Evernote and sharepoint. In addition, ICE also has optical character recognition (OCR) engine that can convert scanned hard copies into searchable PDF, Word and Excel documents.
Speaking on the occasion, Manoj Kumar, Managing Director and CEO, Ricoh India said "Integrated Cloud Environment is a breakthrough technology for making information work. It's an ideal way for cloud users to expand their capabilities and for companies to advance their bring-your-own-device (BYOD) strategies. ICE dramatically enhances the value of a Multifunction Printers, which can serve as an on- ramp to the cloud. Mobile workers can access these documents from any location in the world via smart phone, tablet and PC.
Manoj Kumar, further added, "Kerala is a matured market and hold significant importance for us in view of high business potential especially in verticals like Education IT, Healthcare and BFSI. We have a robust channel presence across South India, which we plan to expand from 800 to 1200. Ricoh has been growing at a rapid rate of over 50% CAGR for last four years, and achieved a turnover of Rs. 1637 Cr in FY'14. The trend continues in Q1 2015 when the company achieved almost 200% growth. The three principal Business Domains of the company, namely Imaging, IT Services & Communication, perfectly synergize with each other to enable Ricoh to position itself as a one stop solution provider to meet every need of its customer in the Office domain".
This new Integrated Cloud Environment solution was showcased as the part of Ricoh 360 degree experience held at Le Meridien, Kochi. Ricoh 360 degree, is an initiative where the complete range of Ricoh product & solutions such as Printing, Document Management, IT Services and Communication systems are displayed under one roof for the customer to experience.