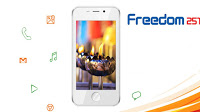 With the recent spate of controversies and doubts surrounding Ringing Bells, the world's cheapest smartphone company and the creators of the Freedom 251 smartphones, one company has come out in full support of the project. SyberPlace, a webstore that sells digital technology such as smartphones, laptops, tablets and accessories, has welcomed the ambitious move to enable entry-level smartphones at just INR 251.
Speaking in support of the move, Urvesh Goel, Founder & CEO, SyberPlace, says, "Industrial revolution made cars affordable, IBM brought computers to our homes, and internet enabled the democratisation of knowledge. Given how smartphones are driving the digital lifestyle and the economy today, smart businesses should be distributing smartphones for free. This move by Ringing Bells will make smartphones available to every Indian. INR 251 is a very fair price for a smartphone, and I admire Mohit and the team for bringing about this disruption."
This support from SyberPlace will come as a welcome relief to the company in question, which has been beset by several doubts in terms of the price of the smartphone, its design, the interface, certifications and the online orders on their dedicated website. Ringing Bells has, reportedly, also come under the scrutiny of the Excise and Income Tax departments, while the viability of its business model and service fulfilment capability is also set to be evaluated by the Department of Electronics and IT Secretary (DEITY) Aruna Sharma.\
Urvesh, however, is unperturbed by the furore surrounding Ringing Bells. "From being the 'second screen', smartphones have emerged as the 'first screen' that users look at for entertainment, stay connected or search something. The 32% growth recorded in internet access year on year is chiefly fuelled by wireless broadband on smartphones. Growth in internet use on smartphones is much higher than wireless internet accessed on desktop," he added in support of Ringing Bells product plan and the strategy adopted.