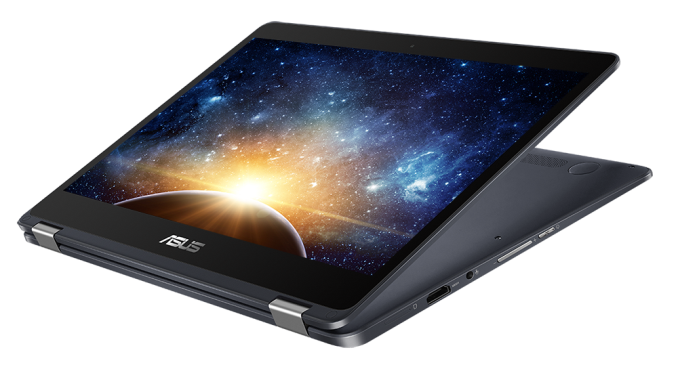 ASUS CEO Jerry Shen announced ASUS NovaGo (TP370) at the second annual Snapdragon Technology Summit in Maui, Hawaii. NovaGo is the world's first Gigabit LTE-capable laptop designed for truly connected mobility, providing users with an always-on, always-connected experience. This ultrathin and light convertible laptop is powered by a Qualcomm® Snapdragon™ 835 Mobile PC platform, and features a Gigabit Snapdragon X16 LTE modem for download speeds exceeding that of typical home Wi-Fi. It has up to a 22-hour battery life[1] with over 30 days of modern standby, and a built-in eSIM[2] that ensures seamless connectivity across borders.
Mr. Shen joined Executive Vice President of Qualcomm Technologies, Inc. and President, Qualcomm CDMA Technologies Cristiano Amon onstage during the keynote speech of the three-day event. "Today marks the beginning of a new era of personal computing and ASUS is very proud to be paving the way with Qualcomm Technologies and other partners to develop this new landscape for 'Always Connected' Windows on Snapdragon PCs. ASUS NovaGo reinvents the concept of laptop connectivity and productivity — it's the world's first laptop that is connected anywhere, at any time, with the new Gigabit LTE network; and lasts up to 22 hours on a single charge for beyond all-day battery life," said Mr. Shen.
NovaGo is a new breed of laptop designed for the tech-savvy user who is aware of the new and exciting always on, always connected possibilities offered by the Snapdragon 835 Mobile PC platform. The latest premium-tier Snapdragon 835 Mobile PC platform is designed to provide superior user experiences with blazing-fast connectivity and exceptional on-the-go power efficiency.
"Qualcomm Technologies has worked closely with ASUS to usher in a new era of personal computing with the Always Connected Windows on Snapdragon PCs," said Cristiano Amon, Executive Vice President, Qualcomm Technologies, Inc. and President, Qualcomm Technologies, Inc. "The result of this work is ASUS NovaGo, unveiled today, a convertible laptop with leading Gigabit LTE connectivity and battery life that revolutionizes what the personal PC can be for consumers."
Also joining the stage and supporting the launch was Terry Myerson, Executive Vice President, Microsoft, Windows and Devices Group. "ASUS NovaGo is a full Windows 10 PC, instantly on, always connected, with a week of battery life," said Mr. Myerson. "With a thin, elegant design and Gigabit LTE, NovaGo is reimagining what a PC can be and we can't wait to see what customers will create with them."